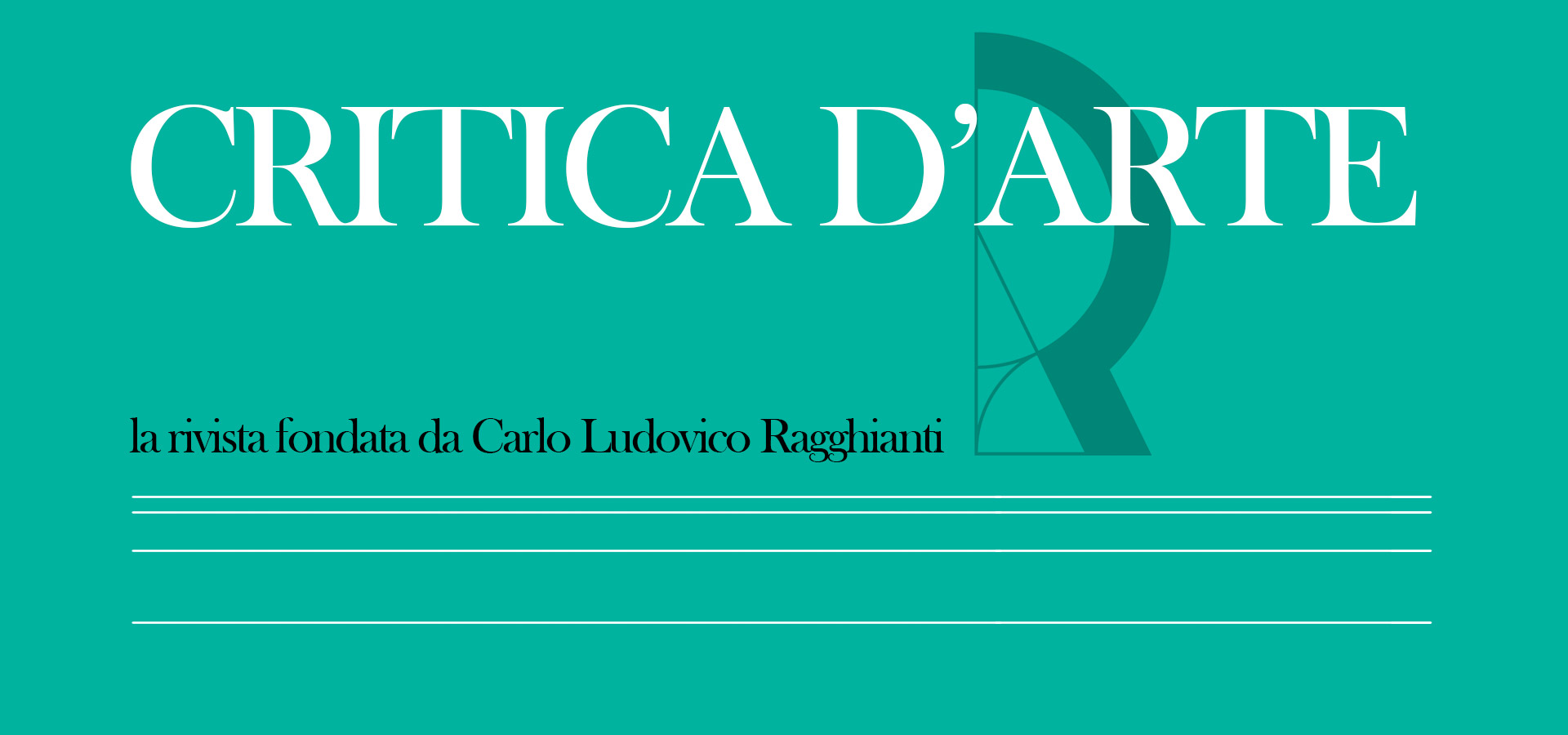 In 2019 the eighth series of «Critica d'Arte», one of the most long-lived magazines of art history in Italy, ended and the ninth one started. This transition is the consequence of important institutional events, happened in 2018. The end of the Florentine activity of the Università Internazionale dell'Arte, owner of the magazine and the transfer of a large part of its cultural and documentary heritage to the Fondazione Ragghianti led «Critica d'Arte» to the most general context of the cultural activity of the Lucca institution, founded in 1981 by Carlo Ludovico Ragghianti and Licia Collobi, and to them entitled.
The new series of the magazine, published in co-edition by the Edizioni Fondazione Ragghianti Studi sull'arte and the Editoriale Le Lettere, maintained the previous format, but introduced a partially different set-up and structure, also with the adoption of editorial rules and of a most peremptory system of double-blind peer review.
The Scientific Committee has been extended and made even more prestigious and international. An Editorial Committee with operational and address functions accompanies it.
«Critica d'Arte» is an open magazine and launches a permanent call for papers to request contributions by interested scholars, according to the programmatic opening of interests that was peculiar to Carlo Ludovico Ragghianti.
The authors should provide royalty free images accompanying the essays. The collaboration by the authors is free of charge. There is no form of stable collaboration.
The volumes whose authors or editors intend to submit the review to the magazine should be sent to the following address: «Critica d'Arte», c/o Fondazione Ragghianti, via San Micheletto 3, 55100 Lucca (Italy).
Proposals for essays and texts – exclusively scientific – can be sent to the attention of the Editorial Committee of the magazine in the form of abstracts, accompanied by the name, surname, qualification and membership of the author. The Editorial Committee will examine the proposals received, accepting them or not, submitting them to the referees selected and, in the case of a positive result of the rating, assigning them to the first available number of the magazine. For information requests and sending abstracts, contact laura.bernardi@fondazioneragghianti.it.
The magazine comes out with two double numbers a year. The subscription for private individuals costs € 125 for Italy and € 160 for abroad; for institutions € 150 for Italy and € 180 for abroad. The price of each double six-monthly issue is € 70. For purchases and season tickets, contact Editoriale Le Lettere, via Meucci, 19 – 50012 Bagno a Ripoli, Firenze (Italy), tel. 0039 (0)55 645103, www.lelettere.it, periodici@lelettere.it, abbonamenti.distribuzione@editorialefirenze.it.
CALL FOR PAPERS
In 2019 the magazine «Critica d'Arte» inaugurated a new series. Faithful to the line indicated by its founder, Carlo Ludovico Ragghianti, we welcome contributions of history of art from prehistory to the contemporary, of history of art criticism, architecture, design, museology, conservation and cinema in two formats: long essay (up 45,000 characters including spaces, with a maximum of 15 images) and a short essay for precise clarifications or philological focusses (10,000 to 20,000 characters including spaces, with a maximum of 5 images). We also welcome interventions on issues of politics and cultural, university, heritage protection, etc. We accept contributions in Italian, English, French and Spanish. The contributions are submitted to double-blind peer review.
Director
Francesco Gurrieri
Editorial Committee
Paolo Bolpagni, coordinator
Gianluca Belli
Antonino Caleca
Cristina Casero
Marco Collareta
Cristiano Giometti
Francesco Gurrieri
Maria Teresa Leoni Zanobini
Mattia Patti
Chiara Savettieri
Executive Editor
Giorgia Gastaldon
Scientific Committee
Fabrizio Franco Vittorio Arrigoni – Julia Barroso – Johannes Beltz – Fabio Benzi – Andrea Branzi – Marco Brizzi – Giorgio Busetto – Francesco Paolo Campione – Richard Yerachmiel Cohen – Lorenzo Cuccu – Gigetta Dalli Regoli – Enrico Maria Dal Pozzolo – Maria del Mar Díaz – Francesco Di Chiara – Cristina Donati – Annamaria Ducci – Marco Fagioli – Elena Filippi – Francesca Flores d'Arcais – Alessandra Galizzi Kroegel – Pietro Graziani – Philippe Junod – Alessandra Lischi – Cesare Molinari – Antonio Paolucci – Emanuele Pellegrini – Marco Pierini – Piero Pierotti – Franco Purini – Carlo Arturo Quintavalle – Roland Recht – Federica Rovati – Francesco Tedeschi – Maria Laura Testi Cristiani – Ranieri Varese – Timothy Verdon – Edoardo Villata – Adachiara Zevi
Editoriale Francesco Gurrieri e Paolo Bolpagni Da maestro Radovan a Nicola "de...
Read More