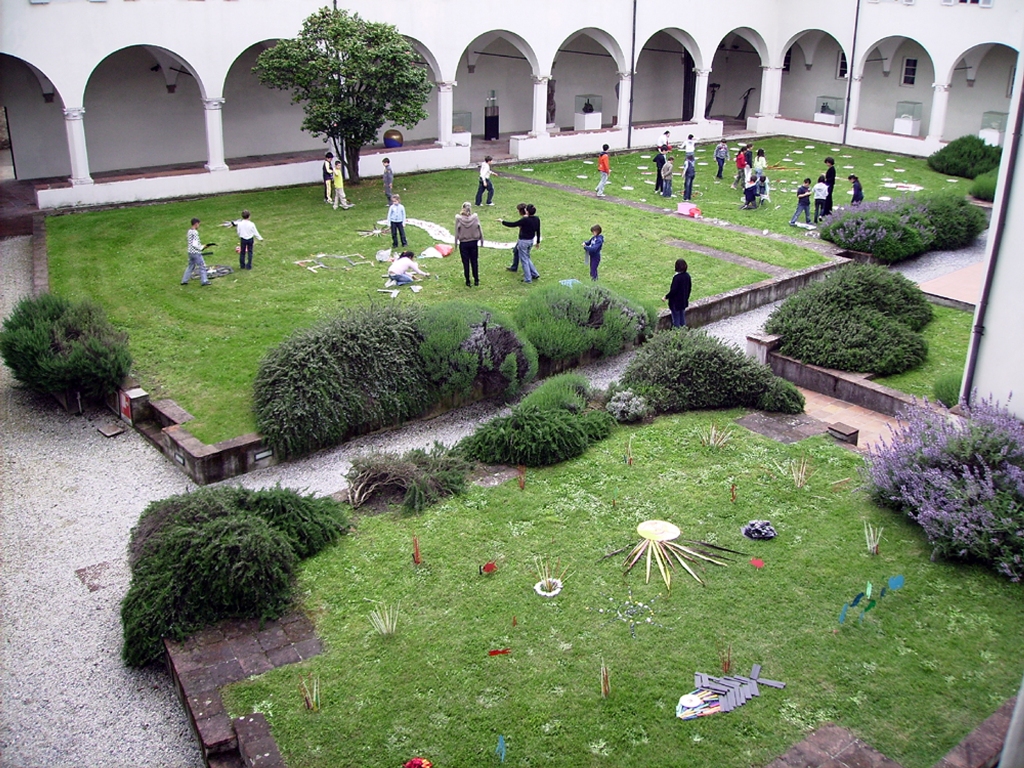 Promoting and spreading the multiple aspects of the contemporary is the aim of our educational services in order to approach the new generations to expressive languages of the 20th and 21st centuries.
Twentieth century art, in line with the teaching of Ragghianti, has always been at the centre of the interests of the Fondazione named after him.
For more than a decade, a series of itineraries for schools have been added to the bibliographic, exhibition and editorial activity.
Availing itself of the contribution of specialists of the sector, the adopted educational method, without compromising on essential historical information, prefers for the youngsters a ludic approach and the practise of workshop, with which everyone can express their own creativity, reworking the different implications of the various artistic expressions.
«If I listen I forget, if I see I remember, if I do I understand». The Chinese proverb often mentioned by Munari is well suited to synthetize the methodological criteria followed in the educational offer of the Fondazione Ragghianti, based on interactivity.
The educational workers guide children and pupils to discover the great artistic movements of contemporary: from the reading of the essential elements of the image, the reflection then passes, depending on the age of the children, to the analysis of the contents, safeguarding both the gradualness of reading, and the subjectivity of interpretation.
The use of manual skills makes these experiences special occasions of learning even because, before the abstract reworking of knowledges, the direct approach to the surrounding reality is fundamental.
Federica Chezzi and Angela Partenza curate educational activities.
#CLICK ART DEDODAGLIOCCHIBLU
Online on the website and on the social channels of the Fondazione Ragghianti, "CLICK ART | lo scatto dell'arte", a project written and realized by Federica Chezzi and Angela Partenza, from the educational department of the Fondazione Ragghianti, active for twelve years with the support of the Fondazione Cassa di Risparmio di Lucca.
Bringing youngster closer to contemporary art has always been one of the main intent, offering new and original paths for observation and interpretation of reality through contemporary languages.
What is "CLICK ART"?
«It is an animated story, conceived to travel in distant and amazing countries», Angela Partenza and Federica Chezzi explain. «Can't we meet now? We will be the ones who reach the children! We experimented a playful language, creating a new format to excite and to approach the children to art».
Each episode will examine a work, an artist, a story and many secrets, with a fun creative workshop for children of all ages: the first one is dedicated to Amedeo Modigliani.
The director Paolo Bolpagni recalls that «the activity of the Fondazione Ragghianti has never stopped during these months and it is going on intensively with its publications, historical and artistic researches and with exhibitions which are under preparation and will take place as soon as health situation allows. With the initiative "CLICK ART", dedicated to children, we intend to go on nurturing our educational vocation to contemporary art».